This is the second post of a two-part story featuring a family of memorial quilts honoring Grandma Kat, a beloved wife, mother, and grandmother. As I described in Part 1, Kat's family felt deeply bereaved in the wake of her death, and her daughter Kelley sought to soften their grief with a set of memorial quilts. The quilt recipients included herself, her two daughters Hannah(9) and Eryn(15), her newborn nephew Lincoln, and her father Craig. (Part 1 highlighted the grandchildren's quilts, this post will focus on Kelley's and Craig's)
Kelley had done some helpful thinking around grouping Kat's clothing for each of the quilts, and she had all of the garments bagged separately when she brought them over to my studio. As is often the case with a "family" of quilts, we chose to make all six quilts with the same quilt pattern, knowing that the individuality of each one would emerge with the different combinations of fabric groupings.
Kelley had chosen a fabric grouping for her king size quilt which consisted entirely of her mother's black and silver garments. I had no doubt this would become a wonderfully elegant piece.
This highly textured jacket, while being somewhat finicky to work with because of its narrowly pieced construction, became a central fabric focus for the quilt.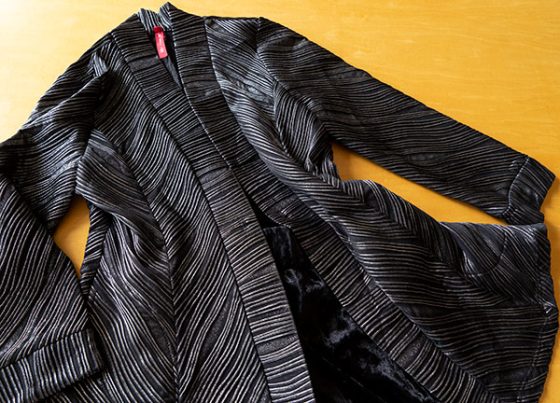 The sparkles embedded in the fabric of the top dress also became a dominant feature.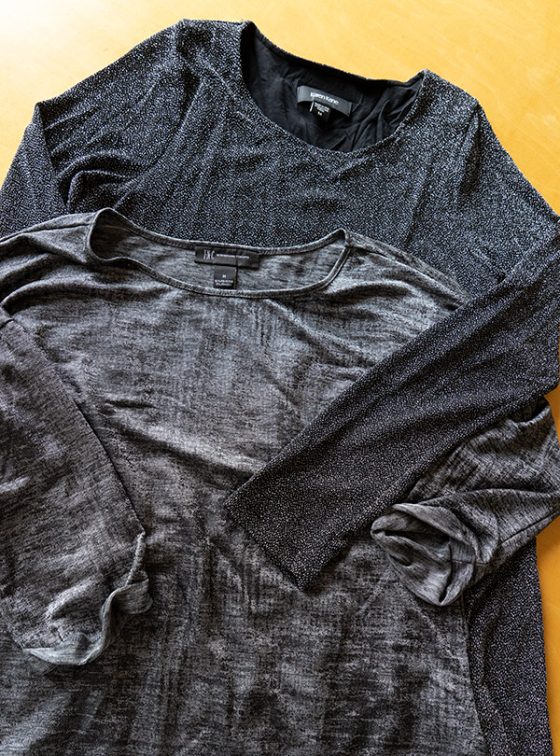 Kat's solid trousers, jeans, and leggings were the supporting cast in their varying shades of black and charcoal.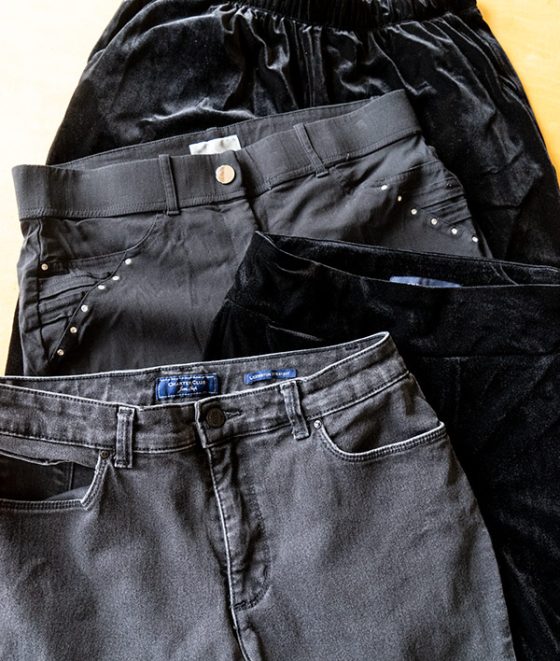 I kept the piles of different blocks organized, as I normally do, to make sure I had enough of each combination.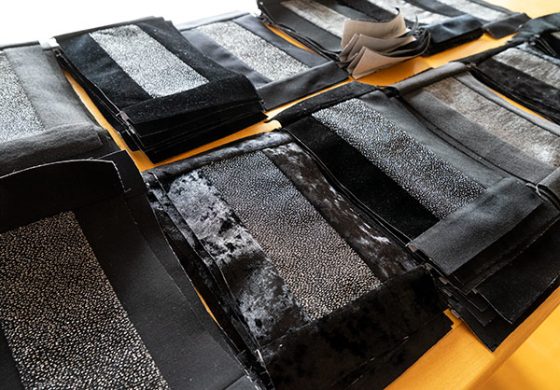 I thought this pile of pinned blocks looked like a small sculpture all on its own.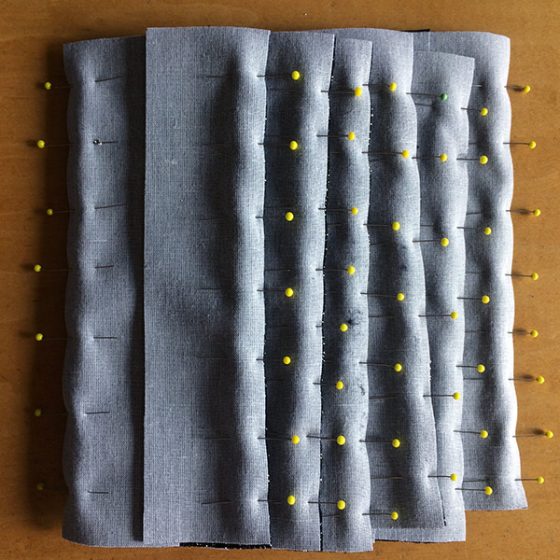 After I had laid out the entire composition of blocks, I sewed them together in strips.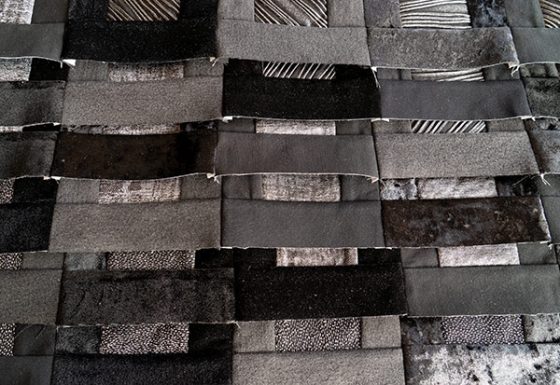 And then everything started to shimmer.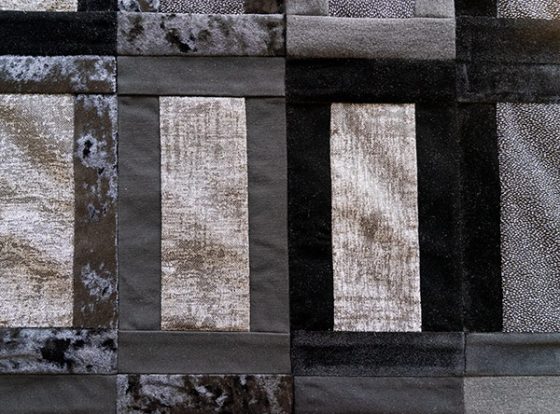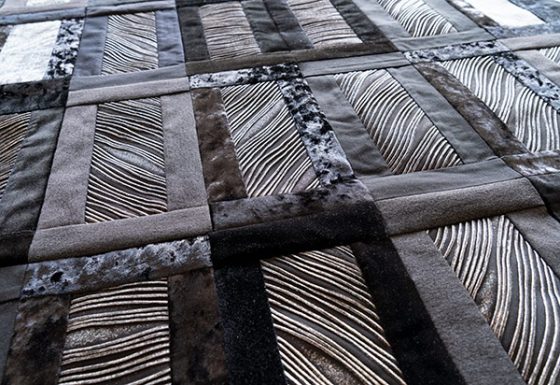 Here is the final quilt, complete with a double border whose fabric I needed to purchase for the yardage needed.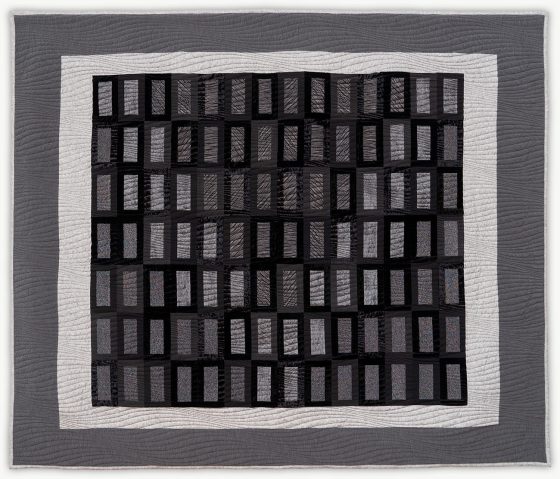 I chose an undulating quilting pattern that mimicked the patterning in the black and silver jacket.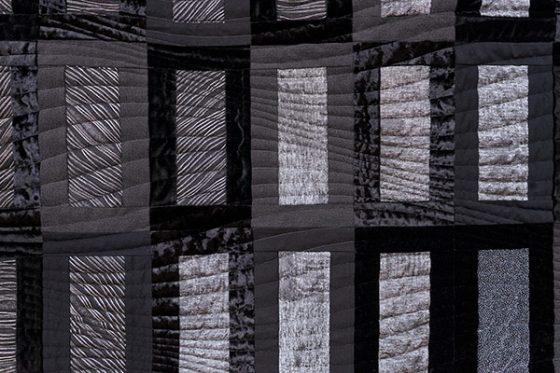 Much harder to capture with a camera were the sparkles of the other black dress and the silver threads of the inner border fabric.
The cool, elegant feeling of Kelley's quilt made a stark contrast to the warm, colorful tones of Craig's quilt fabrics. When Kelley brought them over, we both oohed and aahed over their lovely purple hues.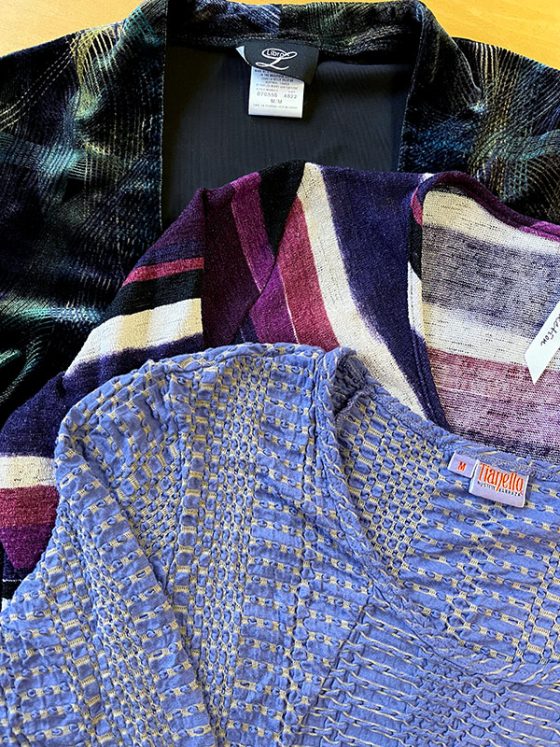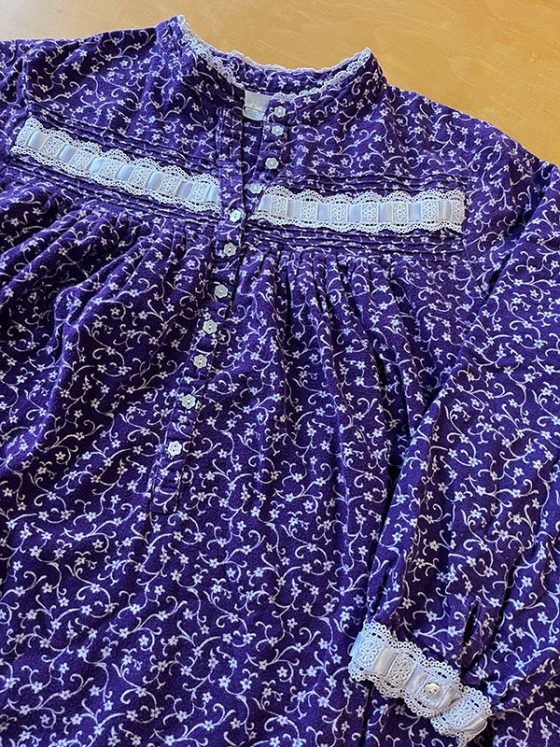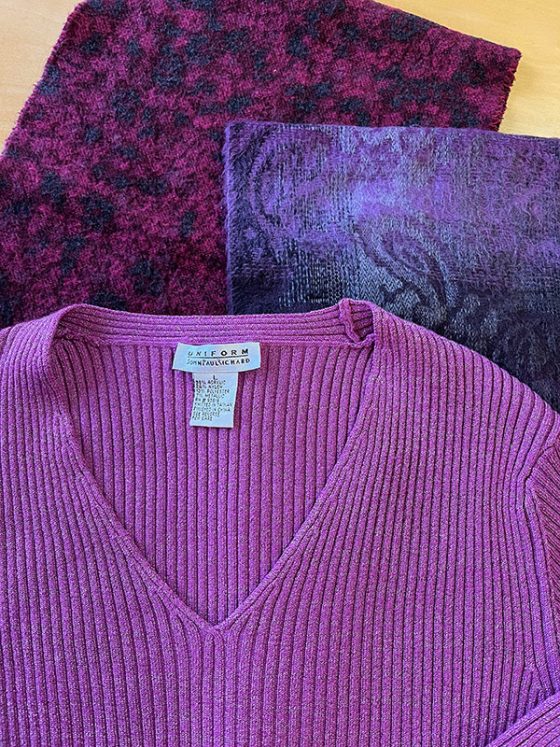 I loved the ethereal nature of these birds in flight on this scarf.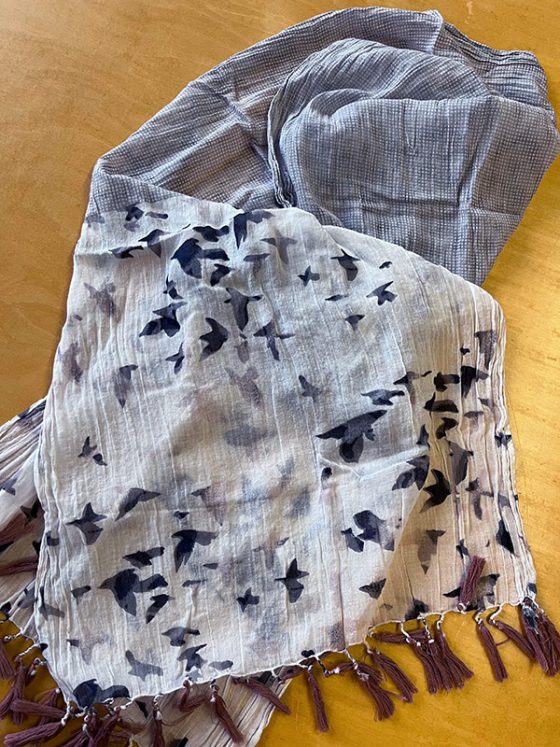 It really was a lovely palette to work with.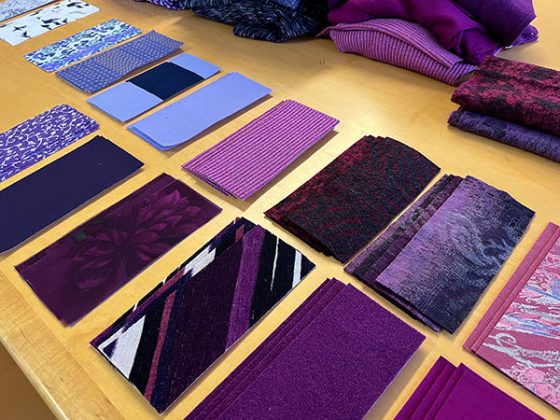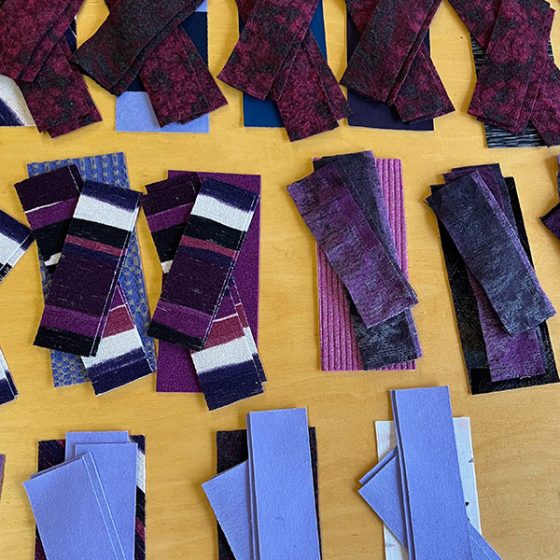 There were so many colors and patterns in the group, I chose to make random pairings for an overall mixed arrangement.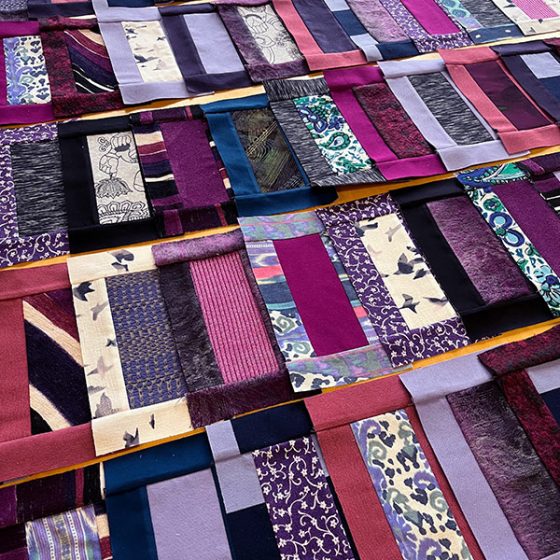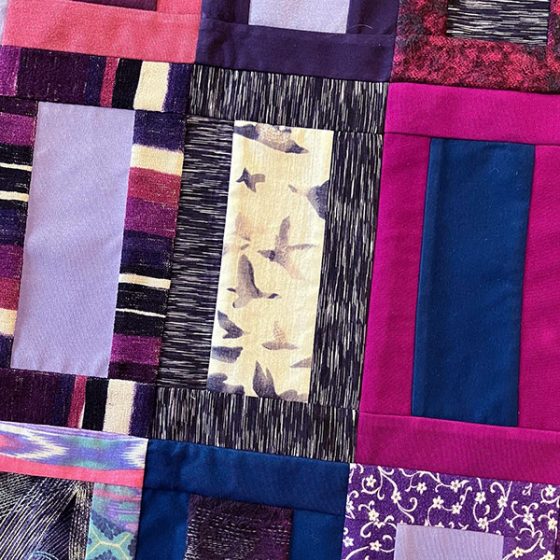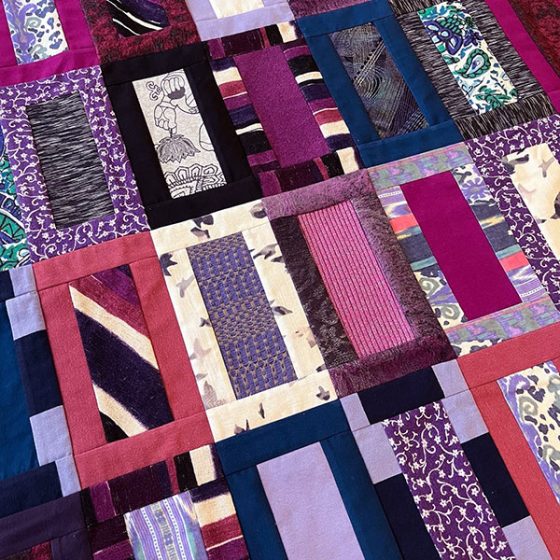 Here is the final quilt with details.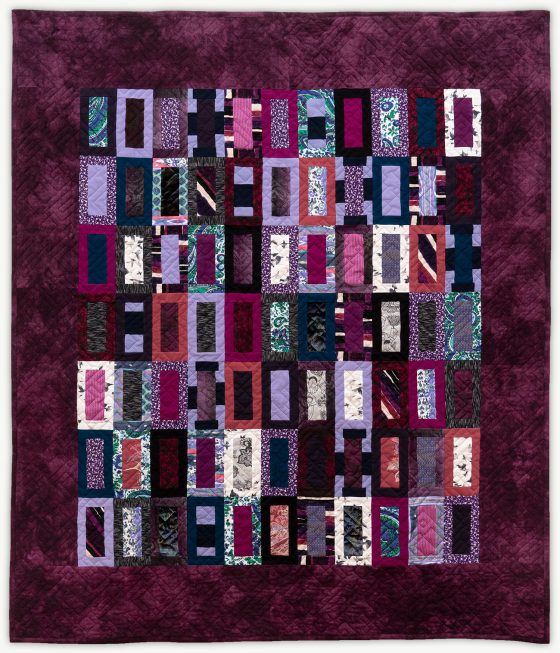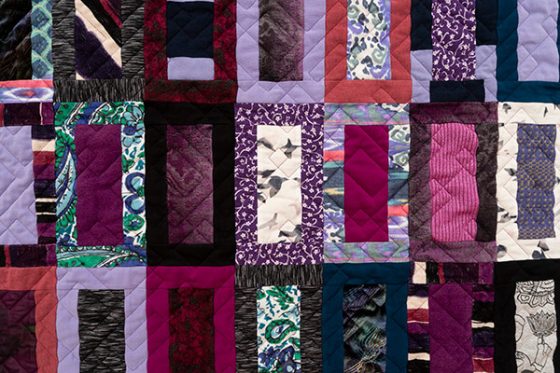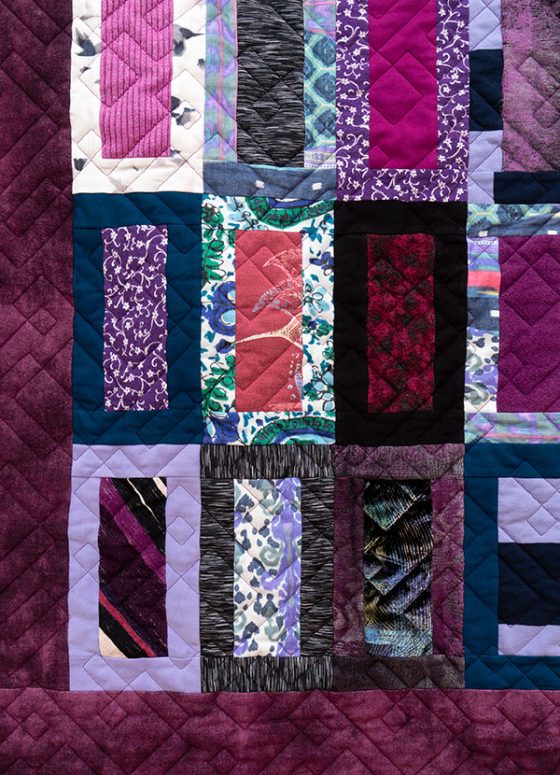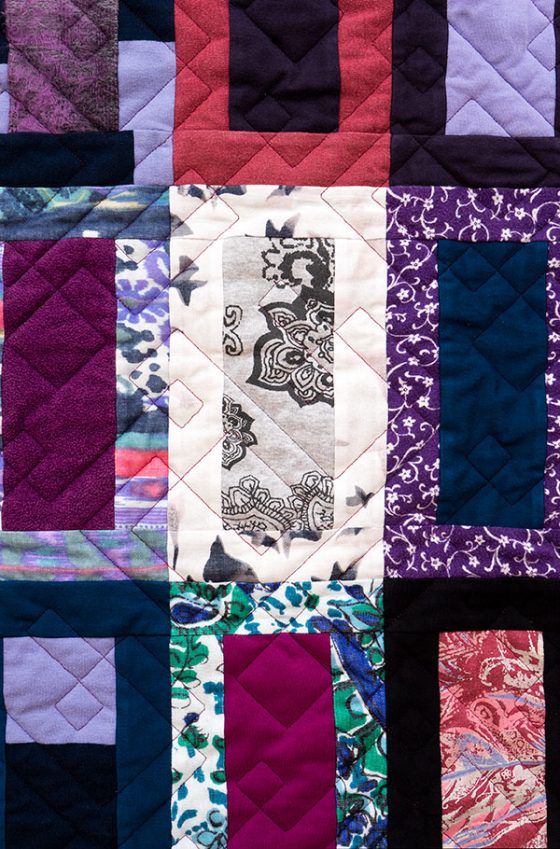 Again, my many thanks to Kelley and her family for going on this journey with me.