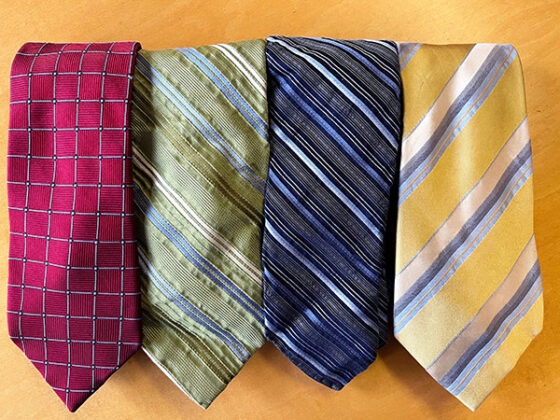 Perhaps because there are several architects in my own family, or perhaps because I find architecture's intersection between art and design so compelling, I experienced a sense of excited nervousness at the outset of this memorial quilt project. Both Joy and her late-husband Ted shared architecture as a profession and a passion. After Ted's death, a friend referred Joy to me to make memorial quilts for her two children. Joy opted for a custom quilt design that would then be used for both quilts.
My approach to this design was to somehow interpret the concept of architectural structure into the structure of a quilt without being too literal or cliché. I drew inspiration from architectural drawings, schematics, blueprints, graph paper, and building blocks, and I came up with a quilt block design that was simple, but elegant, which could be rotated to make lots of different combinations.
Here is a section of the schematic that Joy chose for the quilts. The ticks and check marks happened in-process as my way of keeping track of different fabric placement.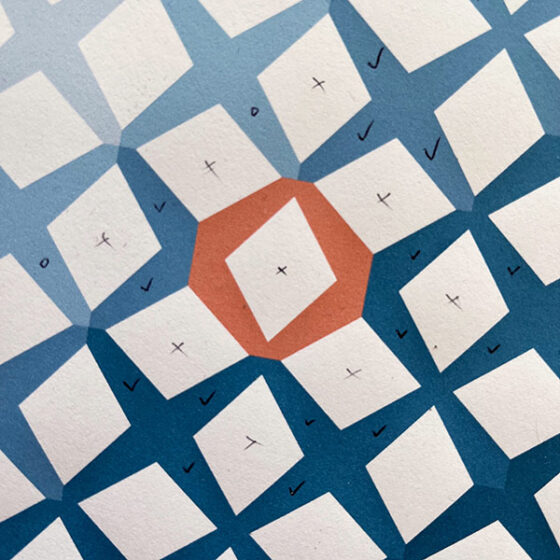 The collection of Ted's clothing that Joy sent was so lovely and worked perfectly with my design concept. The first quilt I made was for her daughter and used primarily the blue and white shirts with an orange accent in the middle.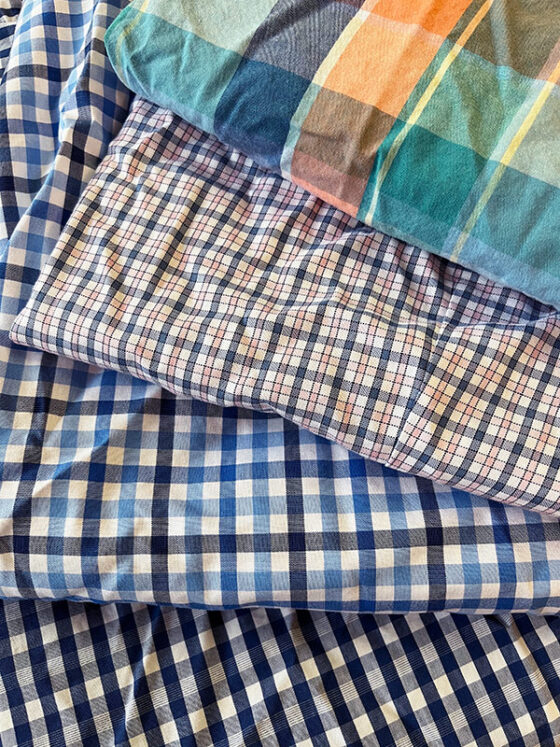 What worked especially well was the beautiful gradation of values of the shirts which allowed me to play with "atmospheric" light across the quilt – a concept that is also integral to architecture.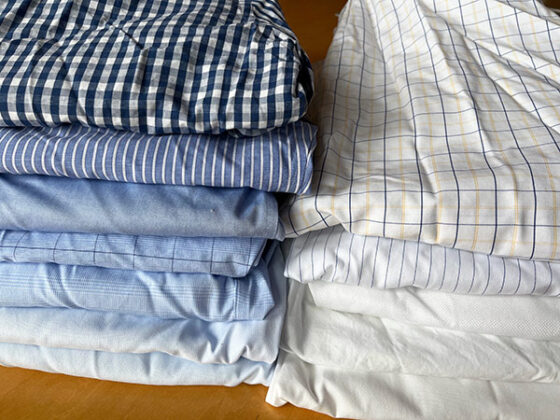 Although the quilt block was in itself quite simple, it required paper-piecing in order for the points of shapes at the intersections to line up accurately.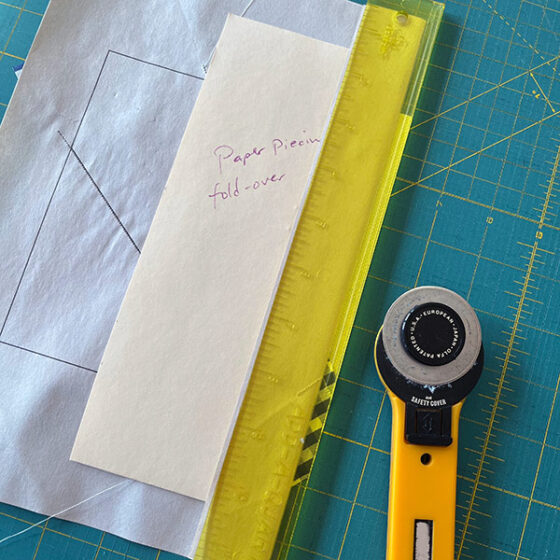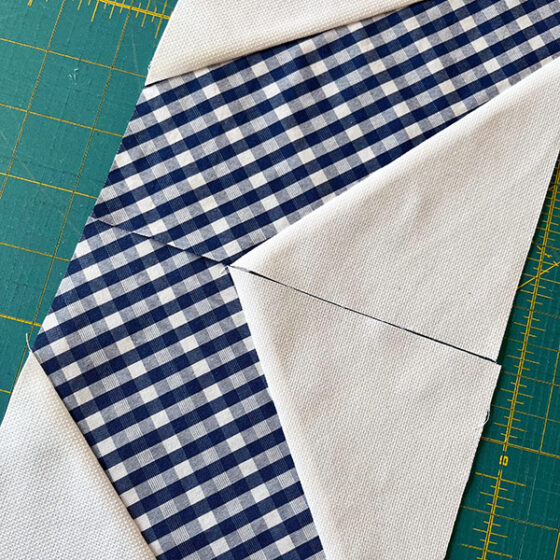 Once I got in the groove, my table was scattered with paper-pieced blocks.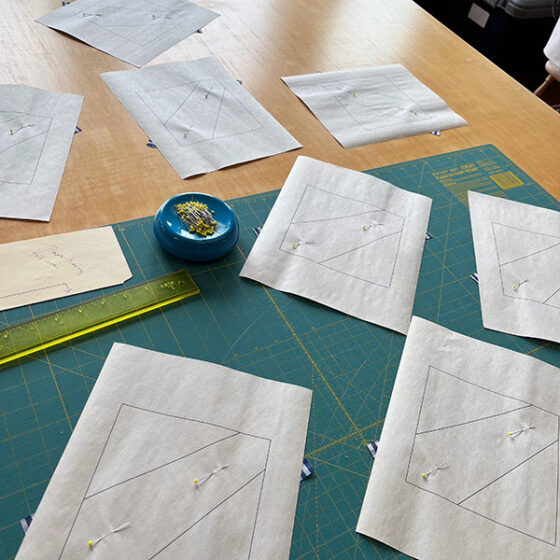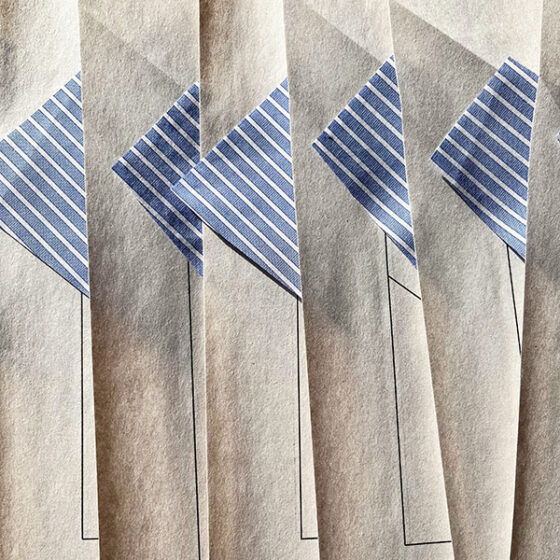 I love being able to play with a range of different whites because they all have a slightly different texture and thus reflect the light with subtle differences.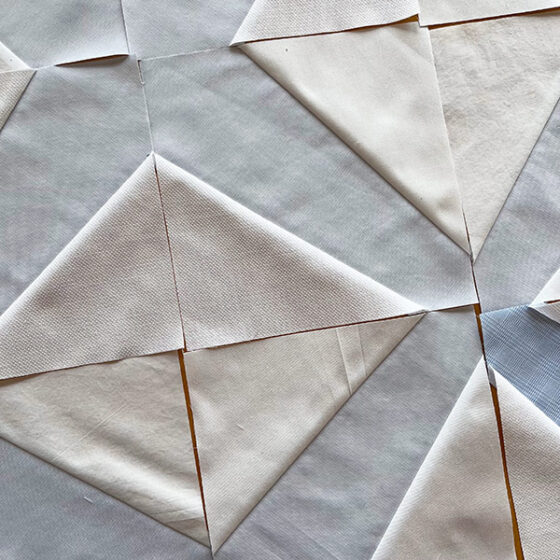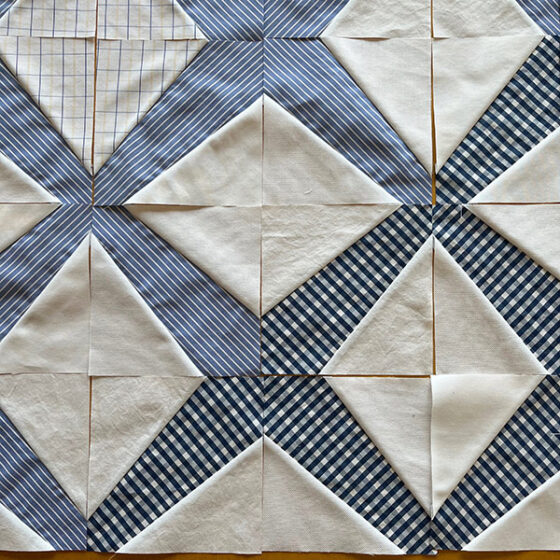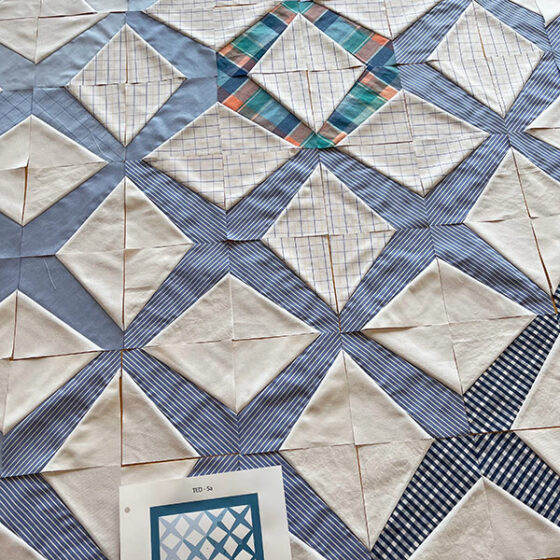 Here is the final quilt, Ted's Atrium 1, followed by some details.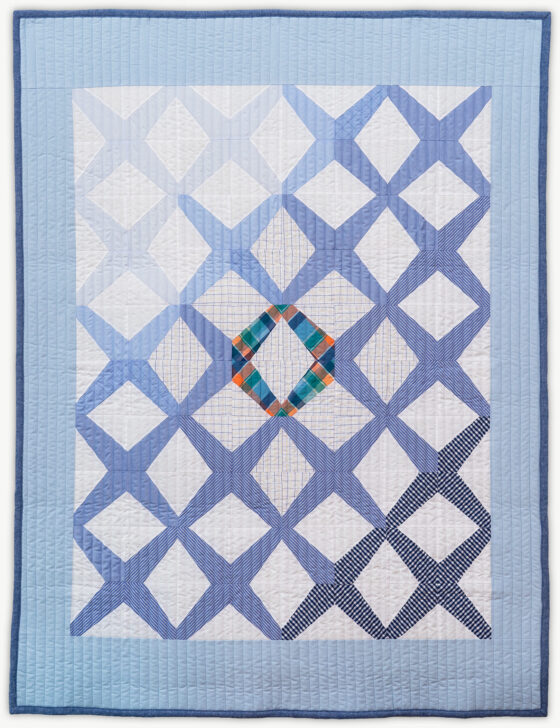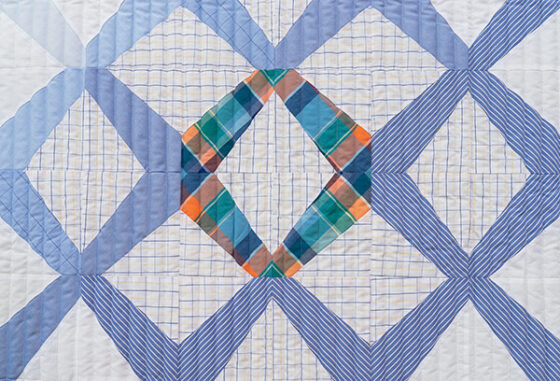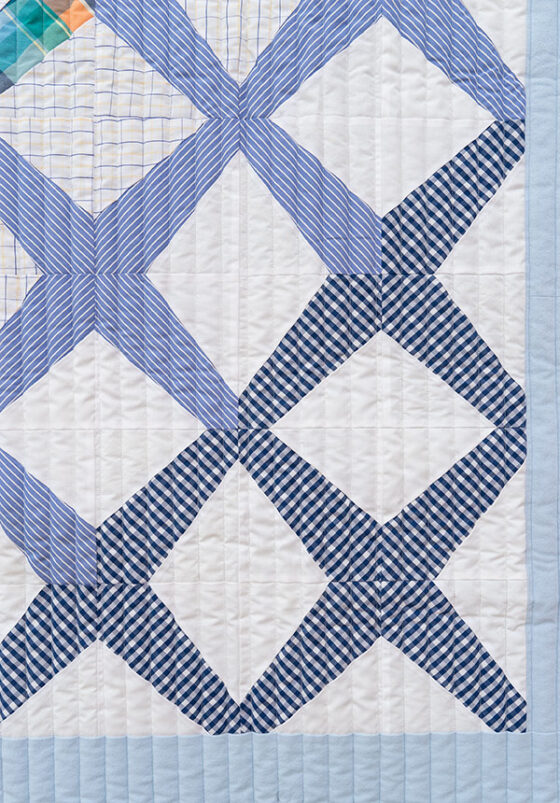 The second quilt was for Joy's son and had a completely different feel even though its structure was exactly the same. It was made primarily from a group of purple-tinged shirts and gray wool trousers.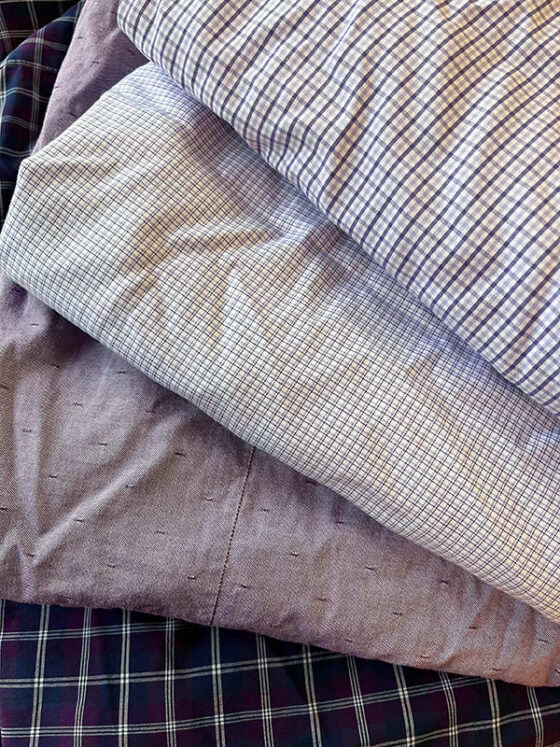 Like the group of white shirts in the first quilt, the group of gray trousers all varied slightly to a beautiful effect.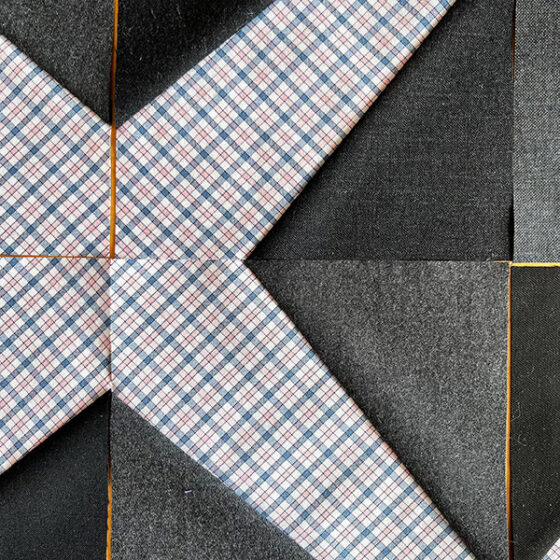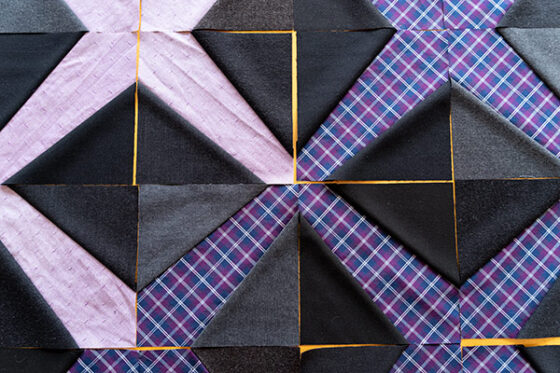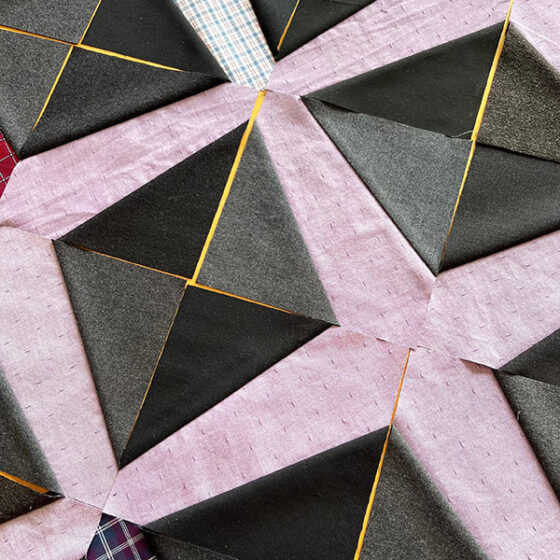 A red necktie was the perfect accent for the center.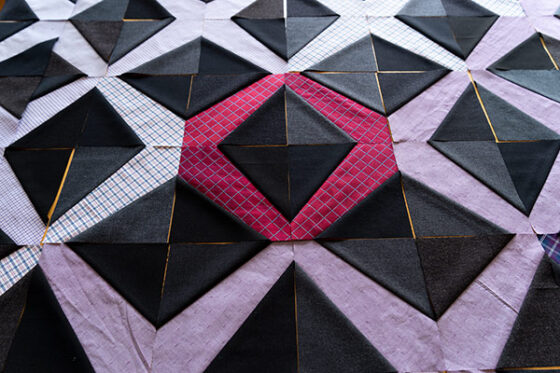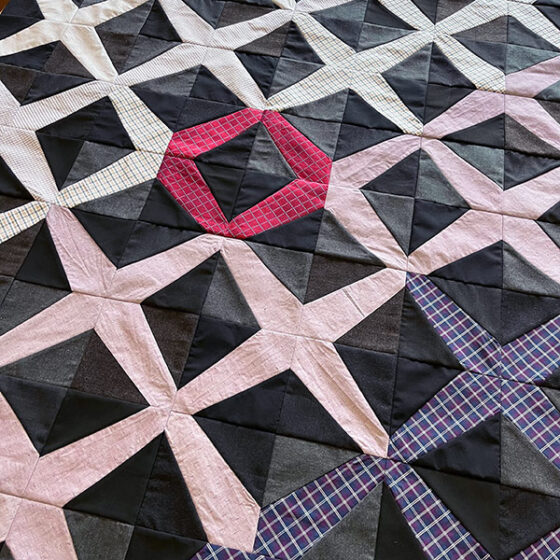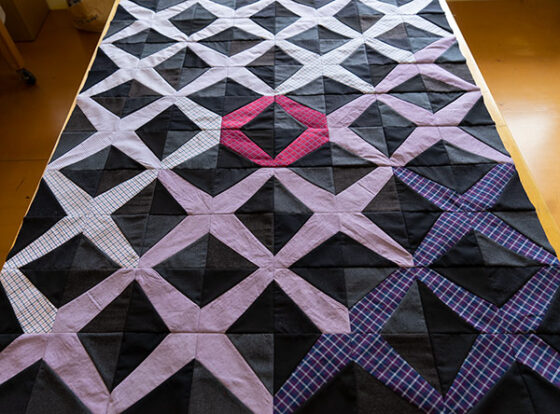 Here is the final quilt, Ted's Atrium 2, followed by some details.