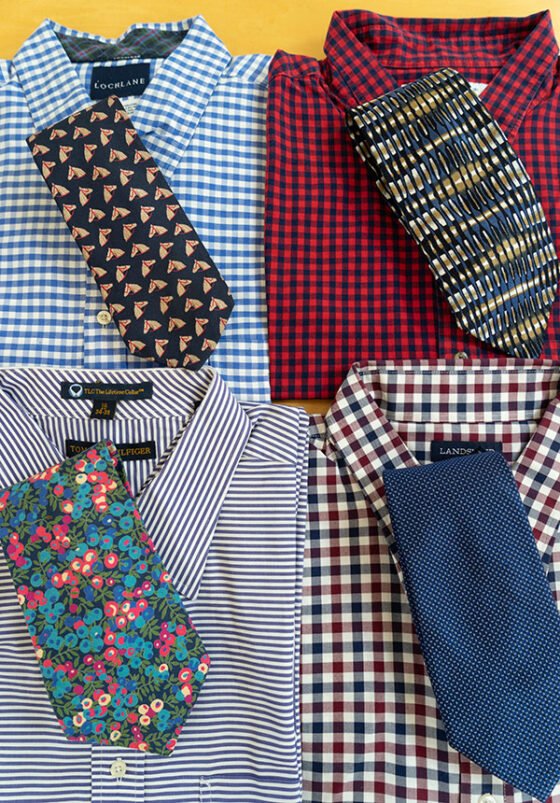 I knew from the moment I got on the conference call with Salvador's daughter Paulina and Salvador's niece Monica that this memorial quilt project would be infused with excitement and liveliness. Perhaps it was from hearing how much Salvador enjoyed life to its fullest, or the scenes I conjured up in my mind of Salvador riding horses together alongside his brother (Monica's father) Fernando who passed away nine years ago. Monica and Paulina told me the brothers always wore bandannas while riding – Salvador opting for more conservative colors like navy, red, and white, while Fernando wore lots of bright colors.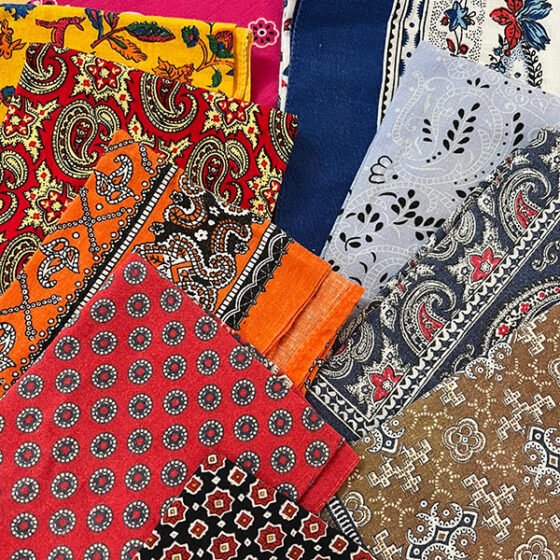 It was clear from the start that the bandannas would play a central role in all four of the quilts, visually as well as the stories behind them. Paulina asked me to make her three quilts, one for her mother, her sister, and her. All of them were to be made out of Salvador's beautiful shirts, with the few navy, red, and white bandannas sprinkled throughout each one. Monica asked me to make her quilt mostly out of her father's colorful bandannas, with a couple of Salvador's shirts sprinkled throughout. (Monica's quilt will be featured in my next blogpost)
Starting off with Paulina's set of three quilts, I took on the challenge of grouping together which garments were to go into each quilt. Paulina had chosen my Blocks pattern for all the quilts, and I love individualizing multiple quilts that share the same pattern.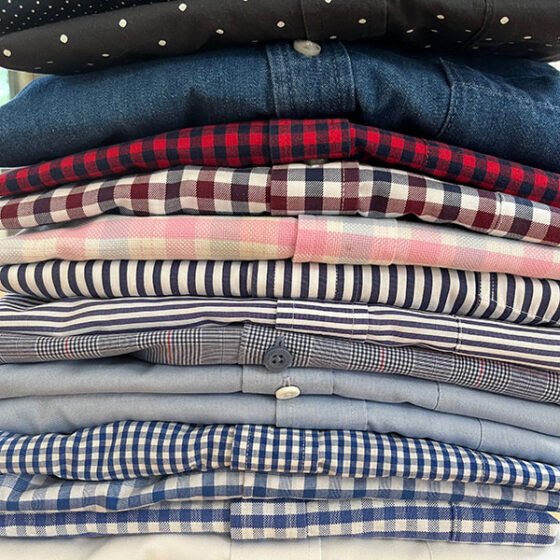 For her quilt, Paulina requested that I include this tie, along with Salvador's favorite velour sweat pant suit and polar bear fleece pjs.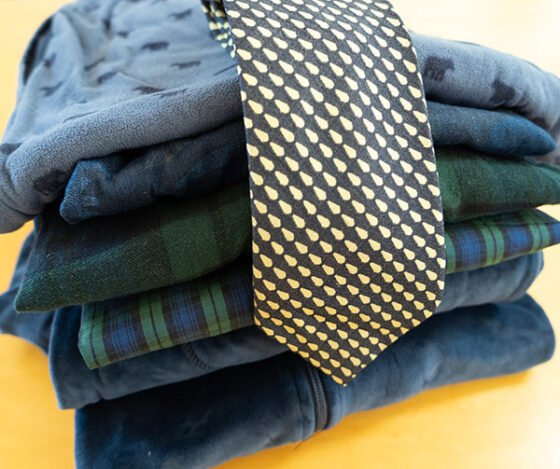 All three of Paulina's quilts would include parts of these four bandannas, so I had to make sure there was enough to go around.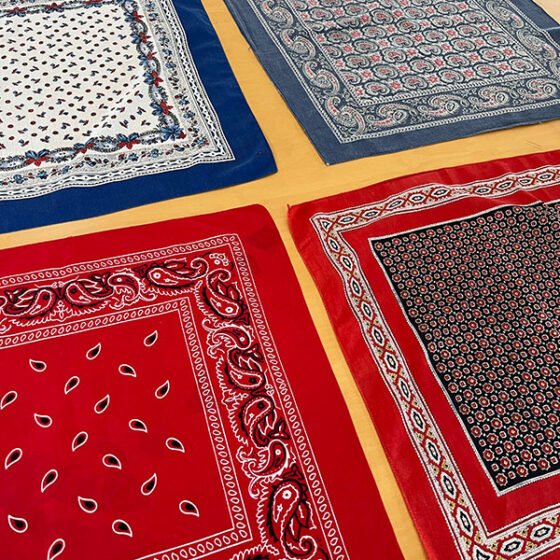 This was the final garment grouping for Paulina's first quilt.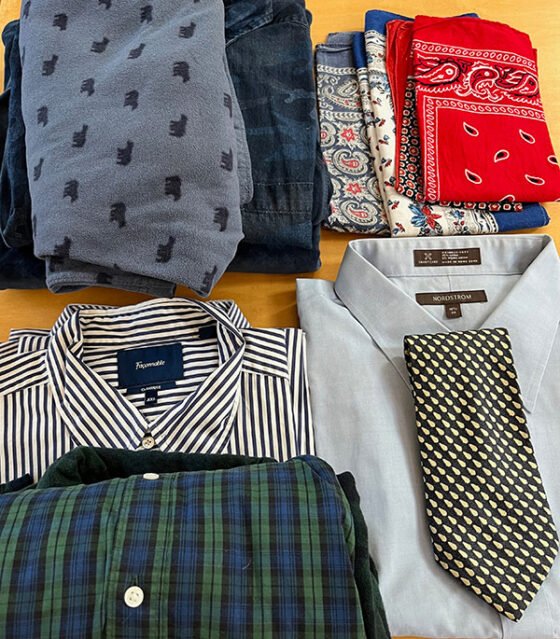 I added the red check shirt early on so some of the center blocks would visually pop. And the special necktie took center stage at the center of the quilt.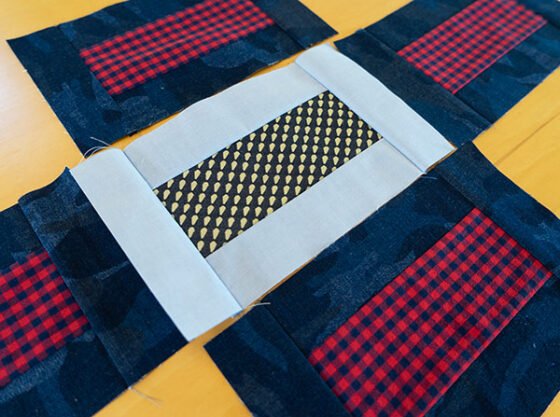 The bandannas were used sparingly so I didn't run out of fabric.
In addition to being a horseman, Salvador collected things he loved – old VW buses, boats, and watches. So I entitled the three quilts Salvador's Collections 1, 2, & 3.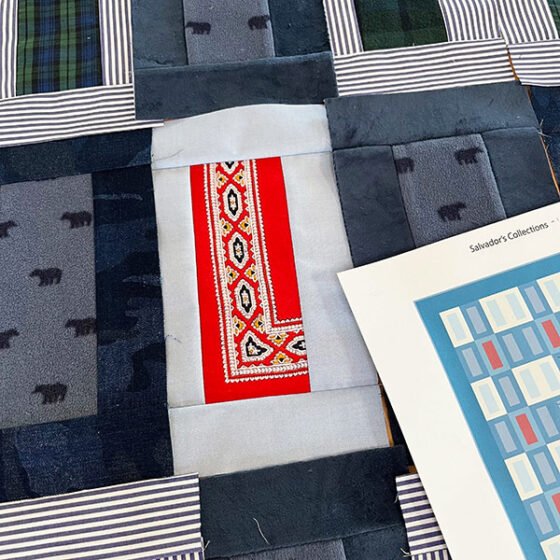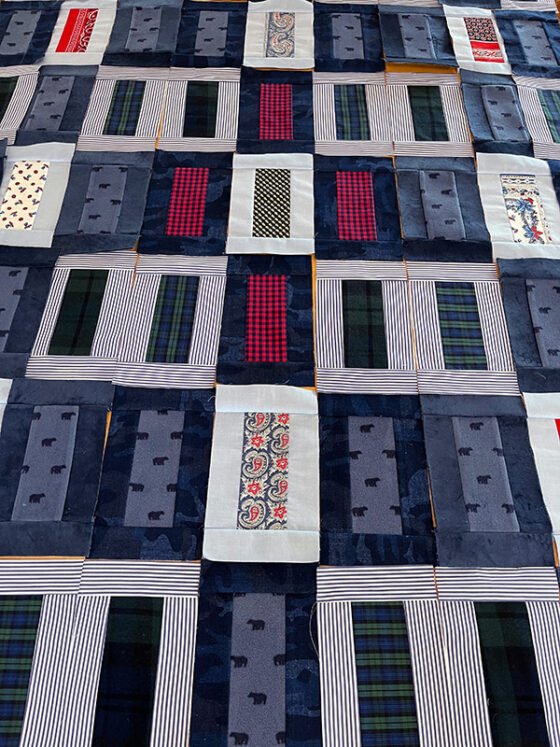 The red colors in the bandannas were perfect accents to the mix of blues and navy.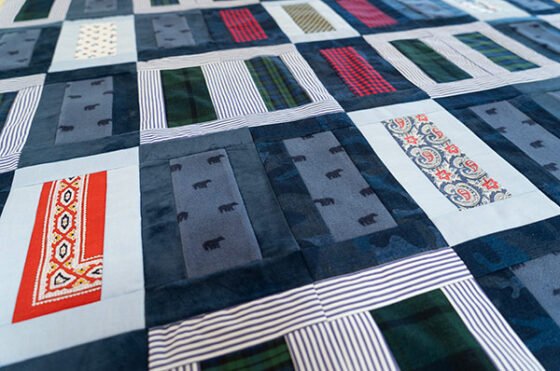 Here is Paulina's first finished quilt, followed by a detail. I chose a wind and water-inspired quilting pattern to reflect Salvador's love of the ocean and boating.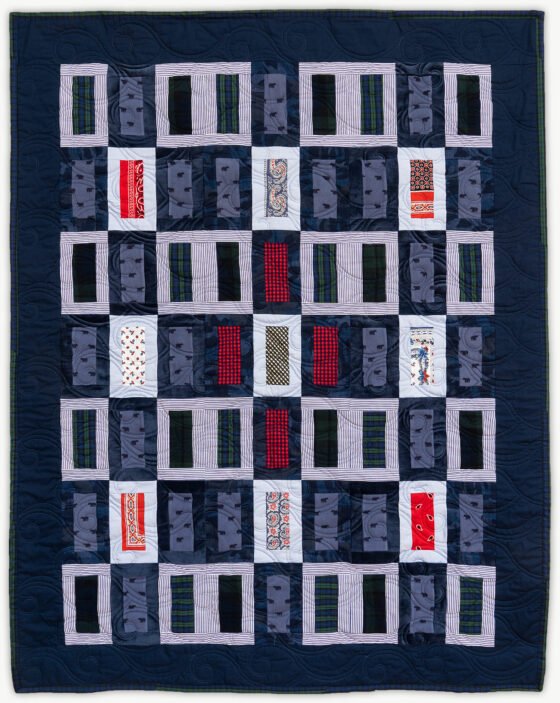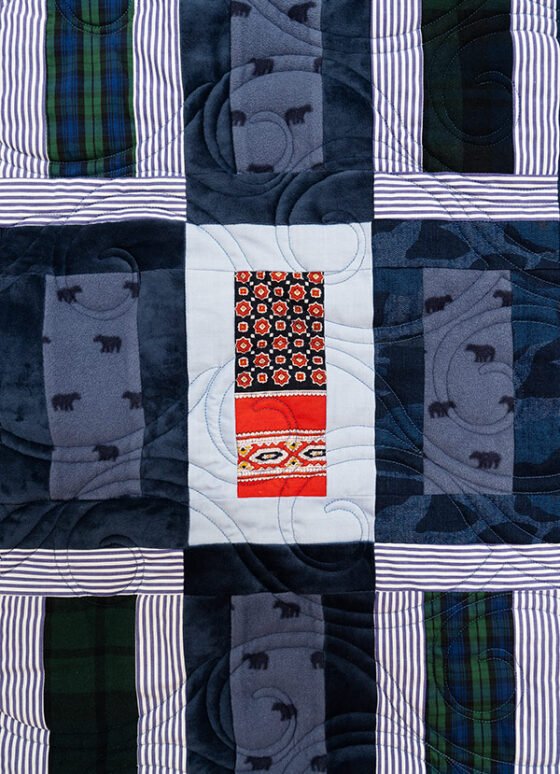 Paulina's second quilt – I left it to her to decide whether it was for her sister or her mother – included Salvador's blue check shirts, several ties, and an eye-catching pink plaid shirt.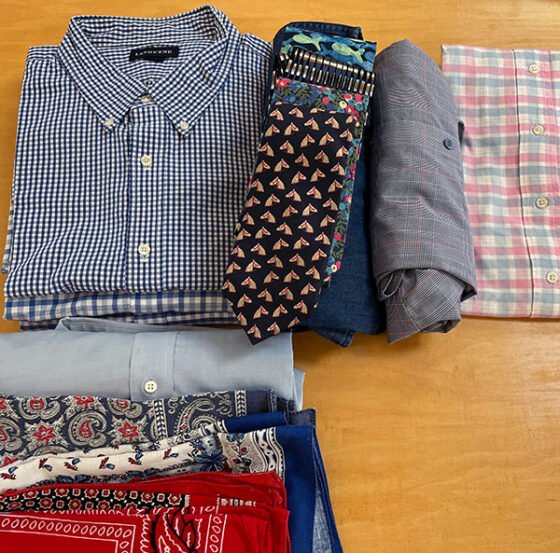 The ties became the focus around the center, while the pink plaid and the gray plaid pairing became the background.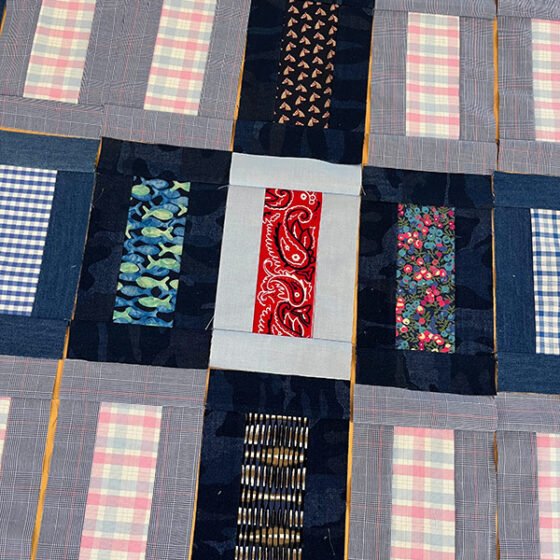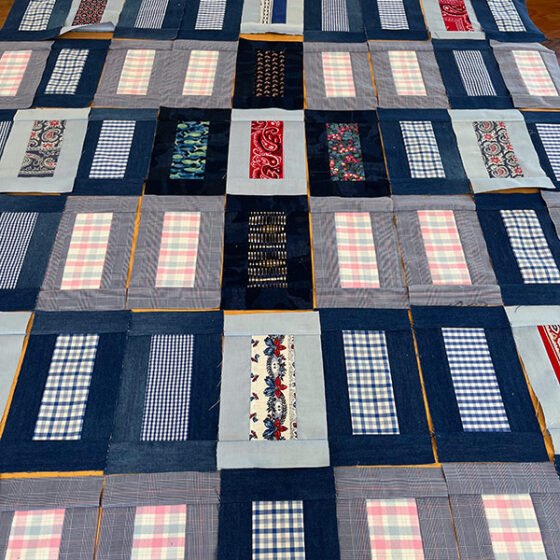 I love how stately the bandannas became when they were framed.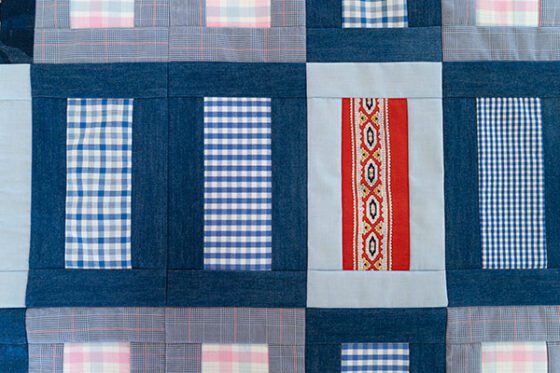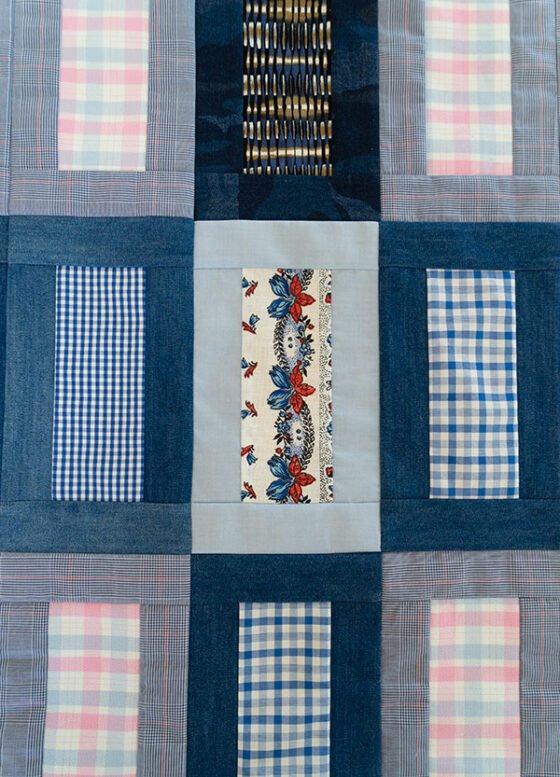 Here is Paulina's second finished quilt, followed by a detail.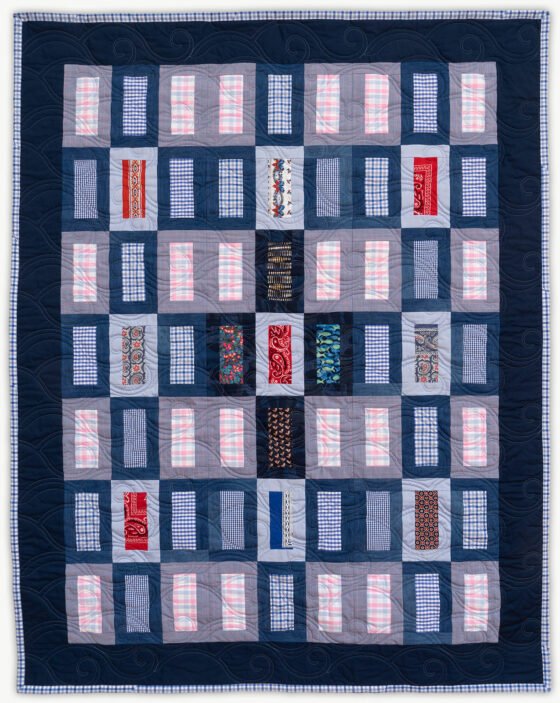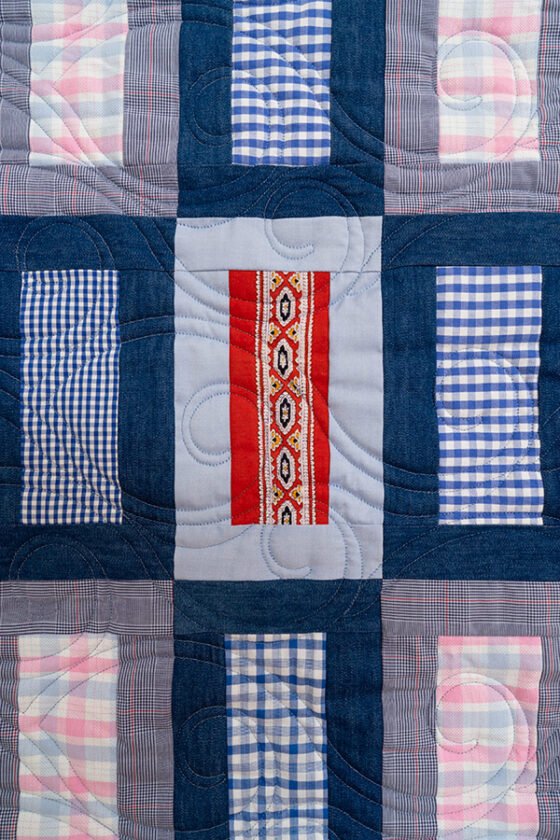 Paulina's third and final quilt emphasized Salvador's stripes, dots, and a single black and brown check shirt, along with the horse-themed tie and the bandannas, of course.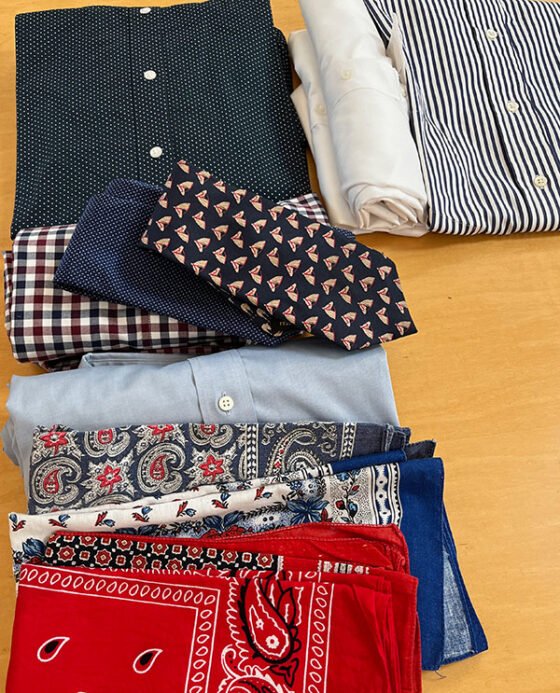 Measure, measure, measure, and then measure again.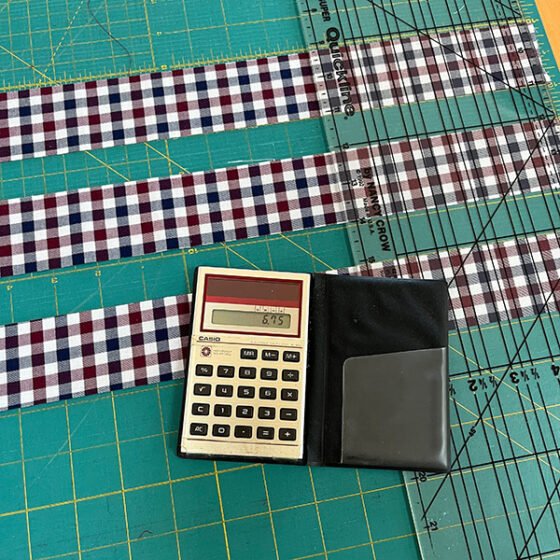 Those polka dots remind me of a beautiful starry night.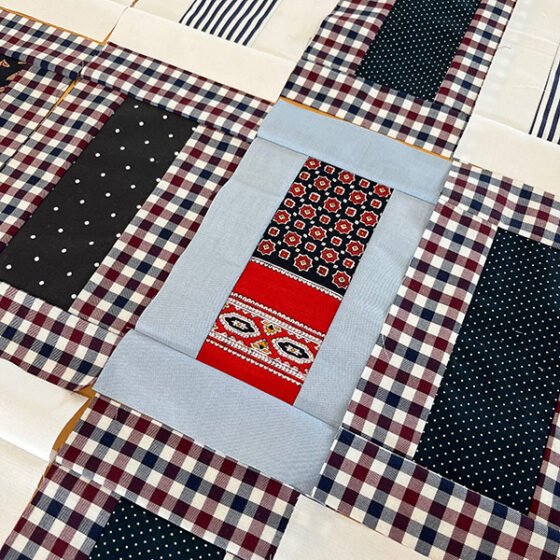 I felt it was important to keep the stripes all oriented in a single direction to create a slight shimmering effect.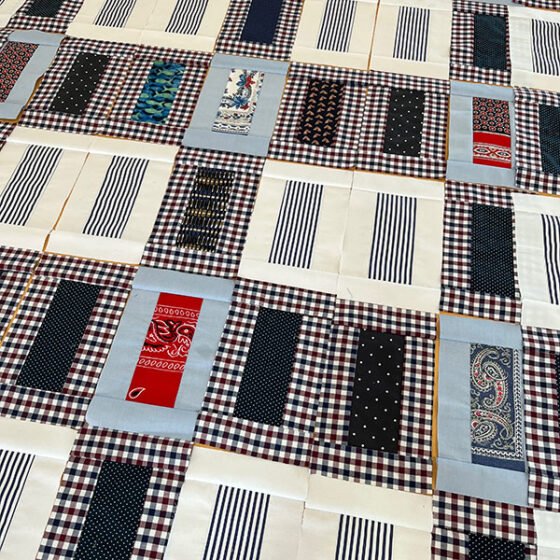 The print on this tie offers up a nice bit of organic matter against the straightness of all the stripes and plaids.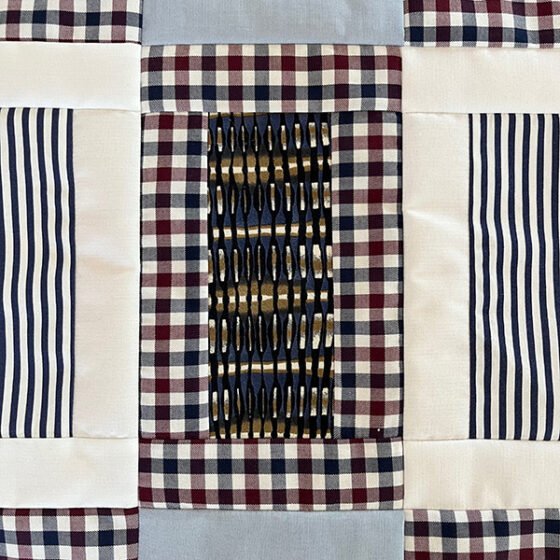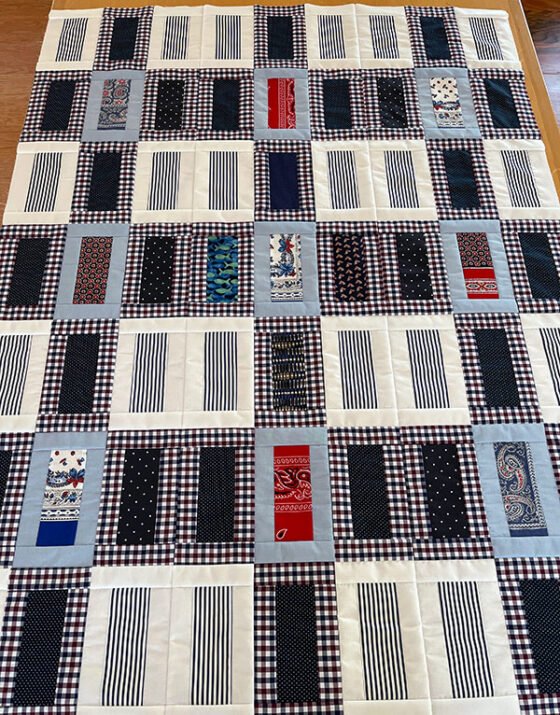 Here is Paulina's final finished quilt, followed by a detail.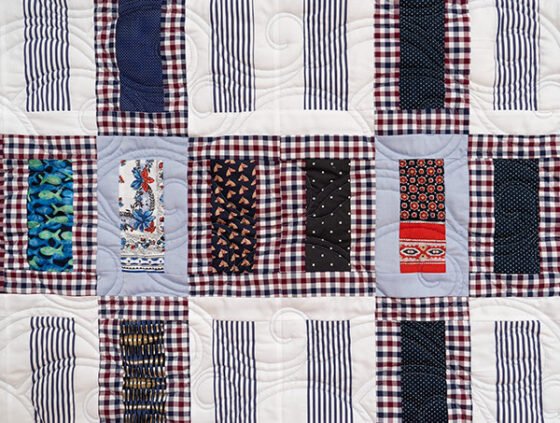 Numerous times throughout this project, I would find myself imagining Salvador riding a galloping horse or breathing in the sea air while out on the water or enjoying a delicious meal with his family. His vivacity and zest for life, as told to me by Paulina and Monica, spilled over into my workplace, and I am all the more enriched for it.