As promised, this is the second of two posts that showcase a set of six memorial quilts honoring the life of Justin LaBerge. The final two quilts in the series were for Justin's wife Elizabeth and his brother, Alex.
The combined content of Elizabeth's quilt felt palpably poignant as I unpacked and laid it all out on my table. Elizabeth supplied me with garments that both she and Justin had worn during their most personal times together. I'm not sure I've ever had a more emotionally charged grouping of garments placed into a single quilt before.
There were the clothes they wore for their wedding:
The clothes they had on when they got engaged:
The dress Elizabeth wore for their first date (green), and the one she had on when Justin died (blue):
The dress Elizabeth wore at Justin's funeral:
As a color palette, I loved how elegant and minimal it felt.
I designed a custom quilt pattern that took inspiration from Justin's professional passion – his dedication to a coalition of America's rural electric cooperatives. In my mind, I kept coming back to imagery having to do with our country's incredible electric grid systems that help bring power to all of us.
The design that Elizabeth chose contained many seams that came together in specific points and was therefore a candidate for paper piecing. While a good deal more painstaking, it is always worth the extra care for the best alignment. There was only one fabric I was a bit worried about sewing (Elizabeth's engagement dress) because it contained two layers: one stretchy under layer and one mesh overlay that included a sparkly thread. Much to my delight, it went smoothly with the paper piecing.
It was nice to have about three to four different whites/ivories to choose from, likewise with the blacks. It helps produce a subtle variance in how those areas reflect or absorb light.
As I mentioned, the paper piecing technique produces very precise angles and points that line up.
Justin's white tuxedo shirt next to Elizabeth's engagement dress made for some great added texture.
Justin's mom, Kim, died of AIDS in 1993 when he was only 13 years old. He wore an AIDS ribbon pin on an almost daily basis, including his wedding, so Elizabeth asked to have an AIDS ribbon design element included somewhere in the quilt. Since it was something close to Justin's heart, it felt right to place it at the center of the quilt.
Here is the final quilt, followed by a detail.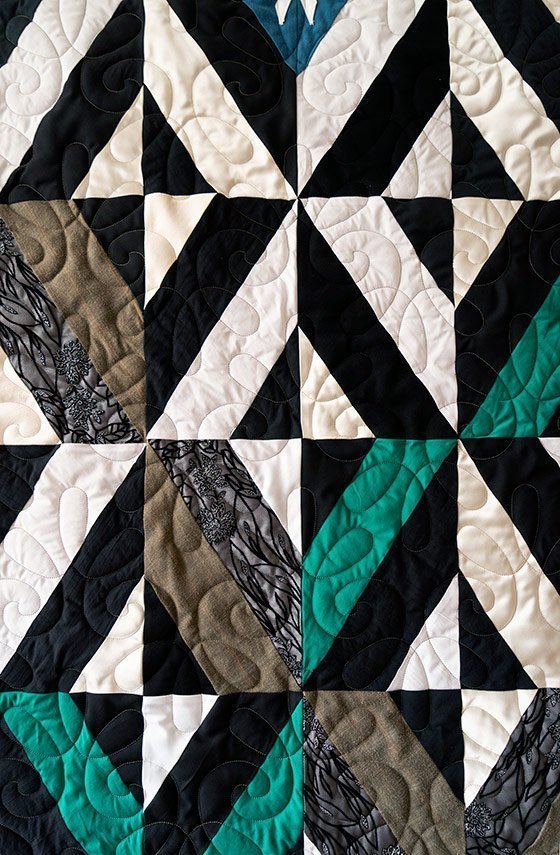 Last but certainly not least came Alex's quilt. It was made from the same base quilt design as Elizabeth's. With completely different fabrics, it had a totally separate feel. Elizabeth had found an additional box of Justin's colorful polo shirts in the back of her closet and sent them to me in time for them to become the focus of Alex's quilt. Combined with Justin's black, white, and light-colored dress shirts, the effect was aptly bold and electric.
More paper piecing!
The solid black and white shirts formed the center diamonds.
Other colors were grouped and dispersed to form their own larger shapes.
It's nice to see the texture of the seams on the reverse side as I'm working and pinning.
I love this pattern because anywhere I framed my photos, there was always in interesting composition.
Alex and Justin shared the same grief of having lost their mother to AIDS, so his quilt also got a ribbon in the center.
Here is the final quilt, followed by two details.
Again, many thanks to Elizabeth for her trust and generosity in commissioning these quilts for herself and her family in remembrance of Justin.