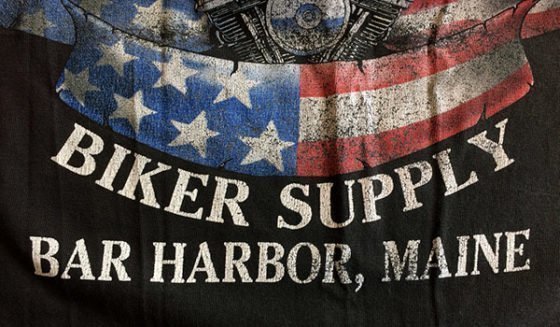 Two words I had never heard from a client before: Go wild! They were spoken by Daniel's son, Dan, as part of his clear and simple design directive for a memorial quilt to honor his late father. He and his mother, Brenda, had just finished tag team sharing stories about Daniel during our initial phone conversation – Daniel died in July 2019. Daniel, often known to others only as Dan the Man, was indeed a wild fellow. His many passions included riding his Harley Davidson, brewing beer, fishing for tuna off Long Island, traveling, and making jewelry and leatherwork.
What Dan didn't know at the time was that those two words – Go wild – were the key to my accepting his commission. The reason being was that Dan said he wanted me to make his quilt out of his father's t-shirt collection. Usually I refer clients to other quilt artists to make t-shirt quilts because normally people want each t-shirt graphic to remain wholly intact in big blocks that are pieced together in a large grid across the quilt. Thus the quilt is more about the t-shirts than it is about the person, which is what I prefer to explore in making a memorial quilt. Therefore, after hearing all about Dan the Man, and with marching orders from son, Dan to Go wild and Don't hold back, we were off to the races.
Daniel's t-shirts were indeed impressive both graphically (which appealed to the artist in me) and for their verbiage (which activated the storyteller in me). Also, there were three distinctive color groupings: blacks/greys, blues, and reds.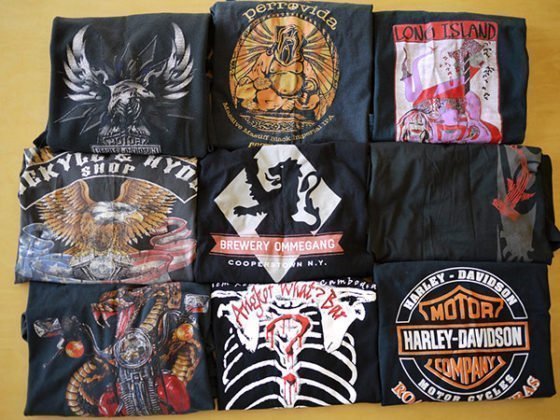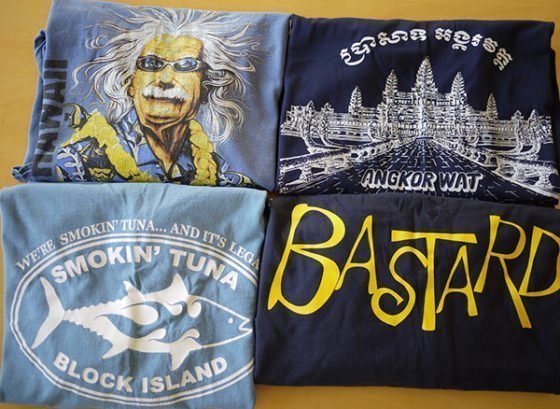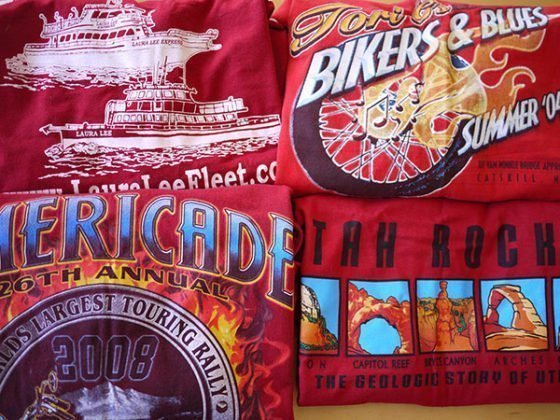 My initial idea was to cut out every word individually and reassemble them into some sort of crazy poem, much like one can do with those fridge magnets – an interesting idea, but better suited for someone I knew a bit better. Since this was to be a wall-hanging, I thought better to make a montage, like a poster or a postcard, highlighting Daniel's life passions. The background of each section of the poster would use a gradient of the solid colors of the t-shirts with carefully selected parts of the graphics making their own newly fashioned statement. Beginning with Daniel's Harley shirts was a no-brainer.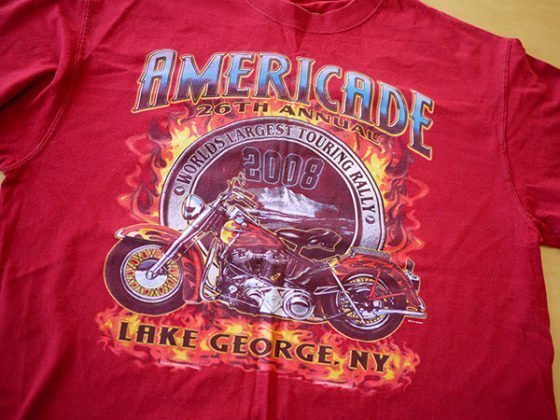 One of Harley-Davidson's logos is a set of wings, so I designed a set of wing shapes as cutouts for one of the motorcycle shirts.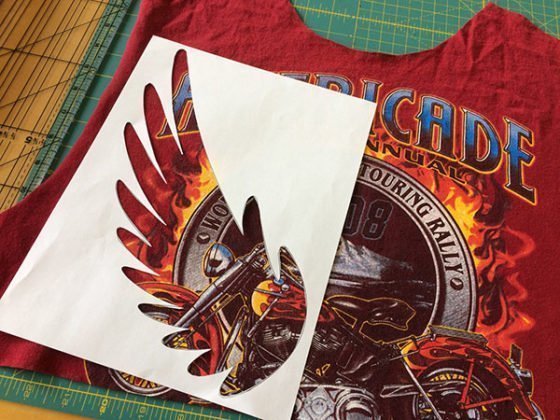 The cutouts were then appliquéd onto the black/dark gray section with a few other meaningful graphics.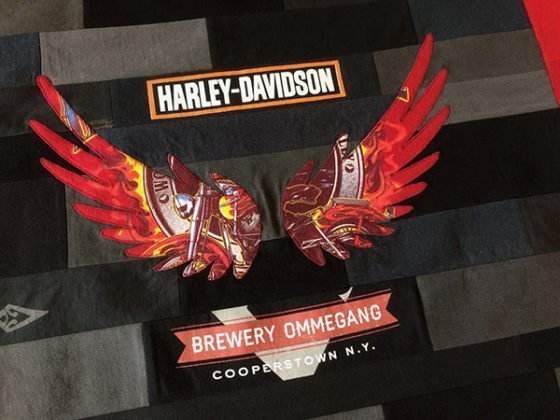 I wasn't quite done with the Harley theme yet because this shirt just ached to be included.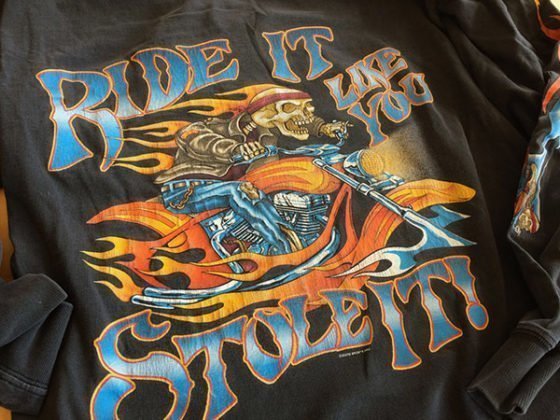 As did these skulls from the sleeves of yet another Harley shirt.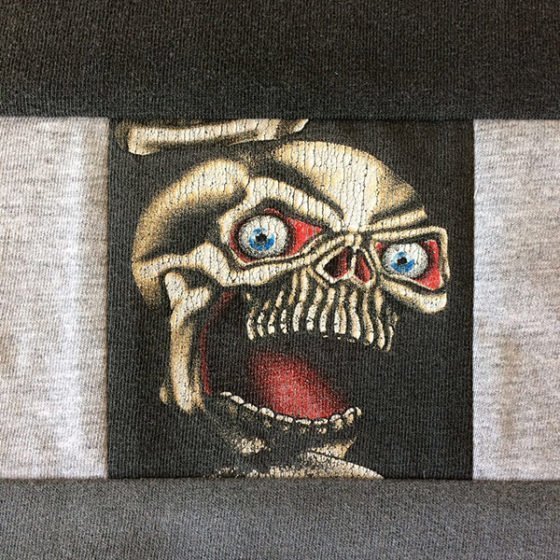 Never having put skulls on a memorial quilt before, I kept reminding myself of Dan's directive not to hold back.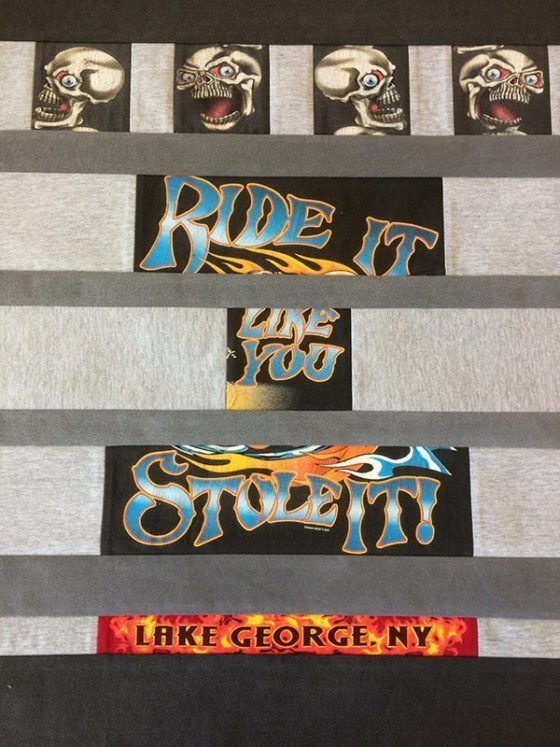 Having completed the top two quadrants, I turned my attention to the large lower section, grounded in blues, which would speak to Daniel's love of fishing.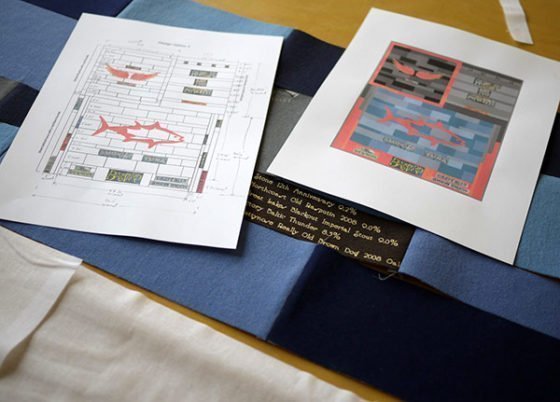 The appliquéd tuna was a monster which took multiple sheets of paper to mock up.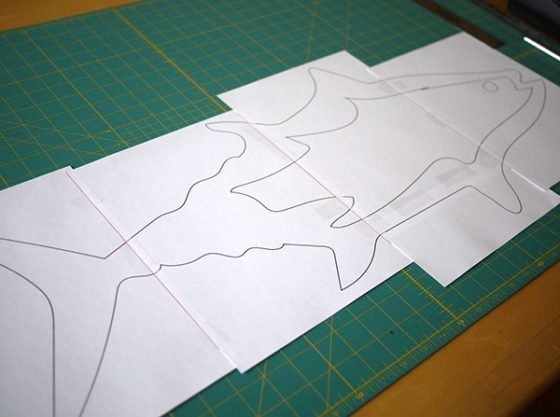 It was cut out of the Laura Lee Fleet shirt – the charter boat company father and son would often hire.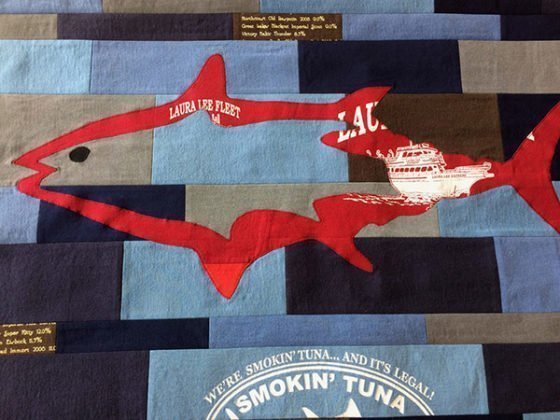 Flanking the sides of the blue section I inserted place names of places where Daniel had traveled.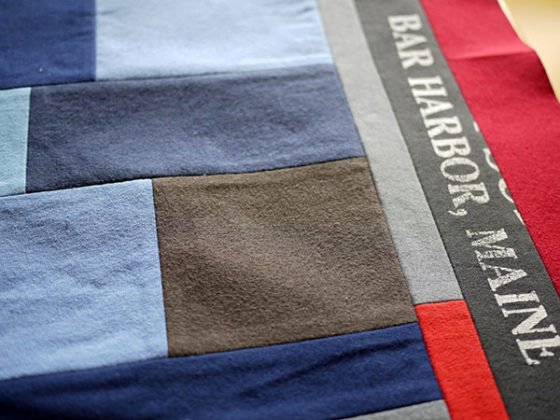 The very bottom section highlighted a few other interests and attitudes.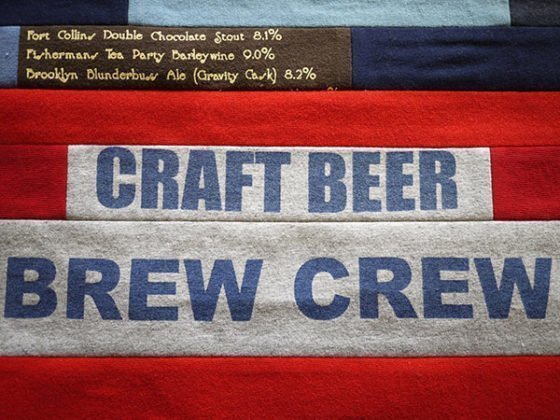 Here is the final wall-quilt, followed by some details.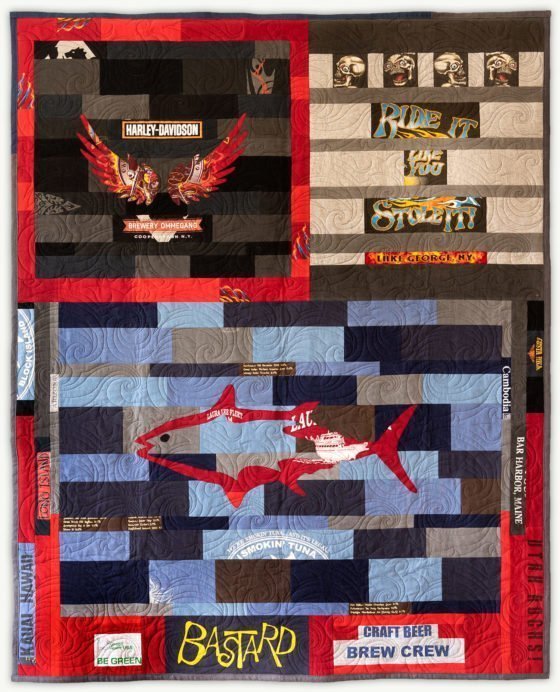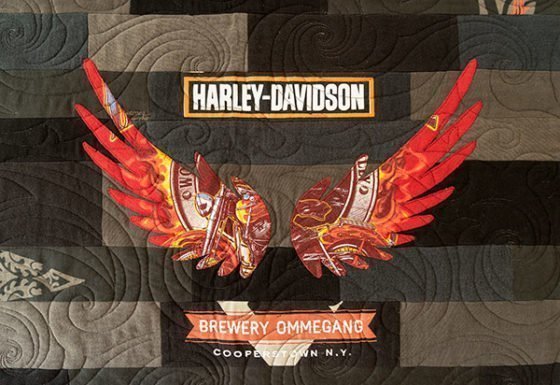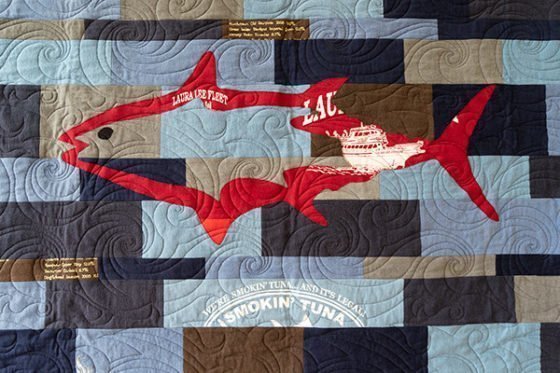 Dan's mom Brenda asked if I would make her a runner in addition to Dan's quilt. There was more than enough material and graphics to work with.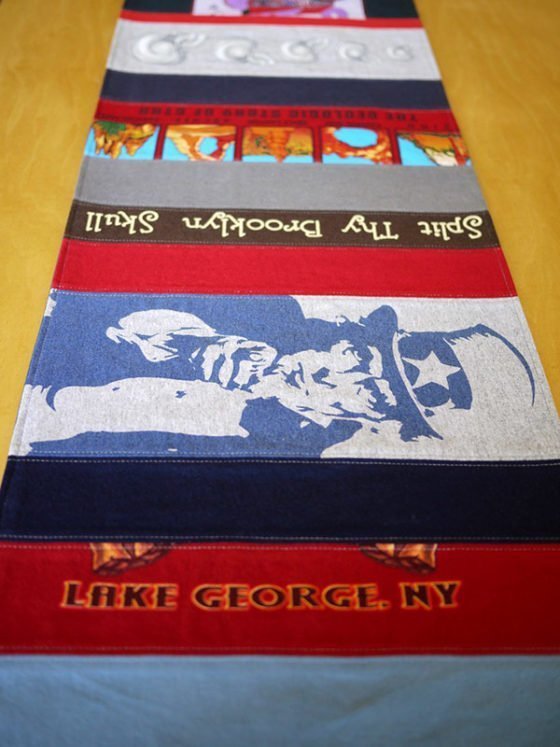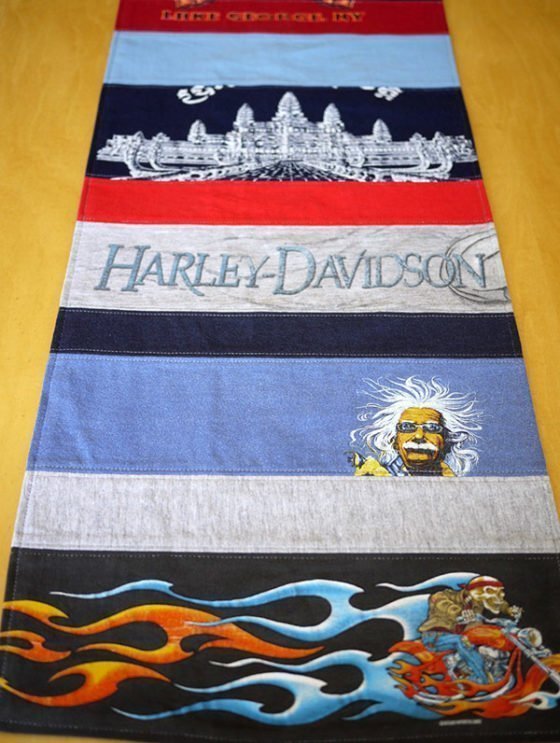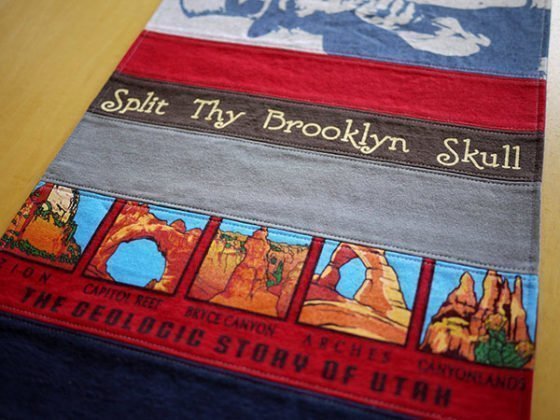 I want to thank Dan and Brenda for their willingness to go with me on this ride – while not on a real Harley, we nevertheless went Wild!