Every year for the past eight years I have made quilts for the high school graduates in my community of friends. My Grad Quilt Project, as it is often called, began when Curtis, the eldest child in a group of several families, graduated in 2014. To mark the auspicious occasion, I gathered garments from every adult in the community and made Curtis a quilt as a way for him to take a little part of all of us with him wherever life took him. Even at the time, I was not blind to the fact that in order to be fair, I was signing up for a 28-quilt, 17-year project.
This year, the quilts went to Isadora and Nate, and in a ceremony now fondly referred to as Quilt Bestowal, I presented them to the graduates. It was a beautiful afternoon in the back yard under the black walnut trees, and this year the first two college graduates were also honored.
Over the years, I have received help from many of the grad's mothers, getting advice on personal aesthetics, color choices, and the like. This year was no different. Nate's mother explained that Nate would prefer not to have a quilt that felt too wild and flamboyant, but preferred a more sleek, understated look. I decided that for Nate's I would limit the amount of each adult's garment to a single strip and fill the rest in with a selection of gray wool suiting for a more tailored feeling. I laid out a small section of each garment to make sure everyone was represented.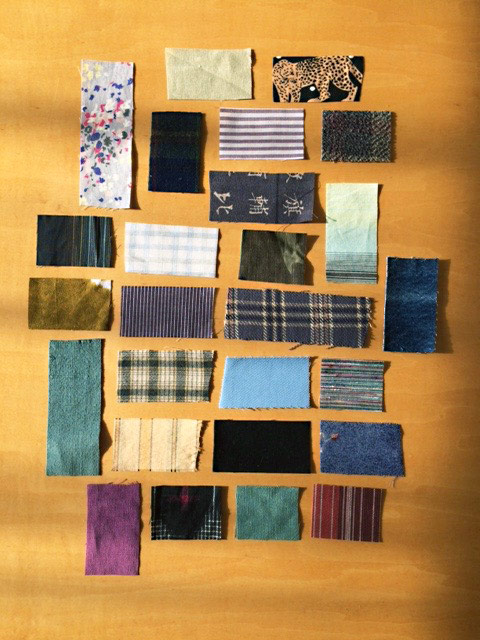 The moment of unveiling is always a treat for me.
Each quilt also gets a personalized embroidered patch on the back.
Before Isadora's mother came to help in the studio, I had already mapped out the general design for their quilt. Isadora has spent many years devoted to studying dance and has a confident, graceful countenance. I wanted to capture a flowing sense of movement across the quilt in a type of wave gesture. Isadora's mom was helpful in thinking through the color allotments for the wave as well as the background. She was also very patient in waiting for me to calculate 1/8″ differences between each segment as we laid the pieces out.
Each quilt story is fun to tell on Quilt Bestowal Day and keeps the suspense alive a few minutes more.
Congratulations Nate and Isadora!
I have my work cut out for me for next year's grads – the most in a single year and one of them my son!